Animation is a fantastic section of cinema, you are no longer contained with physical limitations, the freedom for any subject and any object to become free with any universe the writer creates. This leads to some of the finest and most creative pieces of cinema. However animation can be underappreciated, in awards shows they are undervalued and not given the same weight as live action films. So here is a list of 10 of the most underappreciated animations, whether they failed critically or commercially, they all deserve some attention and praise.
10 ) Brother Bear (2003)
The early 2000's was filled with loads of animated films that were underappreciated and Brother Bear is one of them. Brother Bear has a sweet little story that is fun and at times emotional. With the cracking soundtrack from Phil Collins who previously did the brilliant Tarzan Soundtrack, Brother Bear is a fun little animated film that is sometimes overlooked due to the fact that there are other animal based Disney animations that are far better. i.e Lion King and Finding Nemo. However, the characters are well written and has a brilliant cast that includes Joaquin Phoenix and Rick Moranis. A good looking animation that is colourful and magical but also tackles some strong mature themes such as death. Brother Bear is definitely an animation that is overlooked and should be watched even if it is just for the stellar Phil Collins single, On My Way.
9 ) Antz (1998)
The great animated ant war of 1998. Pixar's A Bug's Life vs Dreamworks Antz. Both did well commercially and critically. However I slightly prefered Antz. It was darker, more realistic and more 'grown up'. Now I love A Bug's Life but Antz was more funny and I was absolutely terrified as a child at the termite war scene. I never saw an animation tackle the horrors and futility of war so well. People mention Toy Story and Shrek as key moments in Computer Generation Animation but Antz should be up there just with the maturity of the film. It is funny, impactful and a good against the odds story. It may not be as colourful as A Bug's Life but it is the superior films about animated ants released in 1998.
8 ) The Road to El Dorado (2000)
One of the greatest mysteries of the 21st century is how this film failed critically and at the box office. An amazing cast, beautifully animated, a brilliant soundtrack by Elton John and a great story. The Road of El Dorado should of been a smash hit. Miguel and Tulio are fantastic and funny characters played by the wonderful Kenneth Branagh and Kevin Kline who have great chemistry. I have rewatched this numerous times and still find it highly enjoyable. I don't know why this didn't hit it with audiences. Maybe the hand drawn animation style had lost its shine by that point as films such as Toy Story and A Bug's Life were huge. I implore people to give this a watch and I guarantee you will enjoy this film. The brilliant Hans Zimmer score, Elton John soundtrack and Kevin Kline and Kenneth Branagh as Miguel and Tulio should be enough to give this film a watch.
7) James and The Giant Peach (1996)
Roald Dahl's wonderful tale of a boy, a giant peach and insects was released in 1996, part live action, part animation. It is a quirky, dark and charming film full of creative and lovable characters. I love the use of stop motion and that true Henry Selick style that was created in the previous Nightmare Before Christmas. It maybe too dark for families as it did not fare well at the box office. I do enjoy slightly dark children films and Roald Dahl was always a master of this, just rewatch Matilda and Willy Wonka, those films have horrifying themes. A lot of Roald Dahl films were the source of my nightmares as a kid, I was afraid of that Willy Wonka Tunnel scene, Mrs Trunchbull and in James and Giant Peach I was terrified of the rhino in the clouds. Even though it is dark and at times terrifying, it is a wonderful watch with the family that usually gets played on TV on bank holidays and sundays.
6 ) The Polar Express (2004)
I love Christmas, I love Christmas films and even better I love this film. This is a wonderful and magical animated film that is heavily criticised by how the children look with their dead eyes. However I kind of like the off kiltness of the characters looks. It shys away from the traditional fare that gets released for Christmas. There is a certain darkness and defined style that I like. The songs are catchy, the story is magical and a film that I watch every year without fail. I love this film like a mum likes their ugly son or daughter, it may not look pretty to most people but I find this film oddly charming. Looking past the deadeyes and you get a wonderful film that encapsulates the magic of Christmas and that I wish that train would of stopped outside my house on Christmas eve when I was child.
5 ) Pagemaster (1994)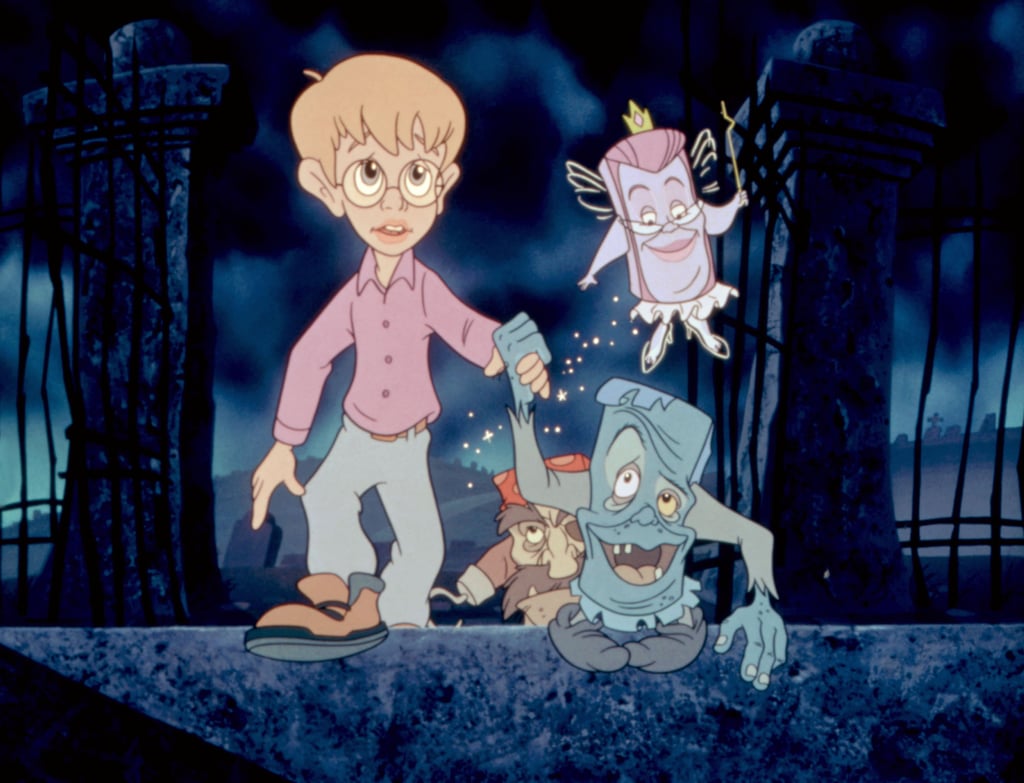 Part live action, part animation, The Pagemaster is a forgotten gem that explores the possibilities of animation and storytelling. The live action segments of this film are poor but where this film excels is in it's animation segments that are styled like classic Disney animation. Macaulay Culkin plays a young child that enters a world inspired by literary classics and met by three books, Adventure, Fantasy and Horror. The creative liberty you get with animation is perfectly shown with this film. It is fantastic to see literary classics such as Dr Jekyll and Mr Hyde, Moby Dick and Treasure Island mold together in a charming and expansive world created by a liberated imagination. Look past the live action part, enjoy and immerse yourself within a world of storytelling and magic.
4 ) Treasure Planet (2002)
A retelling of Treasure Island but with space pirates, a brilliant cast that includes David Hyde Pierce, Joseph Gordon Levitt and Emma Thompson, so why did this not fare well at the box office? Treasure Planet retells the classic adventure with a stunning visual and the classic Disney aesthetic. This is one of the many early 2000's animations that has been overlooked and underrated, along with the next entry in this list. It pains my heart that I live in a world that a film about space pirates is not given the attention and praise it deserve. The film looks and sounds great and is a very entertaining adventure that had all the hallmarks to be a success for some strange reason it did not. Did I mention this film has space pirates…
3 )  Atlantis: The Lost Empire (2001)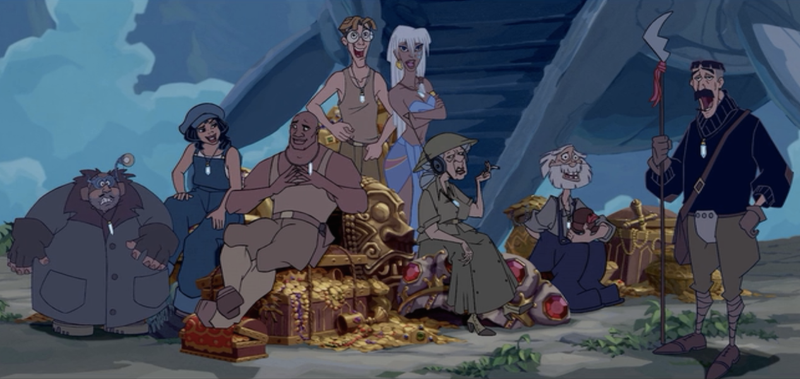 I did say that the early 2000's was full of underrated animated classics, Atlantis: The Lost Empire is another brilliant animation that had mixed reviews from critics. This is a great animated adventure that was full of diverse distinct and lovable characters. This also has one of my favourite female characters, Kida, The Princess of Atlantis. The animation looks wonderful and has a steampunk kind of style that is brilliant. Full of action, comedy, an awesome cast and characters, Atlantis: The Lost Empire is a grossly underrated film that deserved more than a direct to DVD sequel. It created such a vast and distinct set of characters that it could of had several stories of lost worlds to explore. Definitely give this one a watch!
2 ) The Last Unicorn (1982)
The Last Unicorn by its title may sound childish or more marketed to a female audience but it cannot be any further far from the truth. The story of the last unicorn is fantastically magical that blends American and Japanese storytelling. It is visually stunning and enhanced by the beautiful score. The Last Unicorn also has one of the greatest voice casts of any animated film that includes; Alan Arkin, Mia Farrow, Angela Lansbury, Jeff Bridges and Christopher Lee. I vividly remember watching this as a child and was immersed in the beautiful world it creates and was horrified by the terror of the Red Bull. The film is magnificent and full of some touching moments that would make any person emotional. To cap it all off the theme song from The Last Unicorn by America is fantastic.
1 ) The Iron Giant (1999)
Not just one of the most underappreciated animated films but just underappreciated films of all time. The Iron Giant is a fantastic tale of a giant robot that falls down from the sky and lands in a small town in America and befriends a child. It takes it inspiration from 1950's sci-f B-movies and is one of the most charming and exceptional animations of the modern era. It was directed by Brad Bird who has directed such classics as The Incredibles and Ratatouille. The Iron Giant also has some great characters, Dean McCoppin is by far one of my favourite animated characters along with Kent Mansley. This fared well with critics but it bombed at the box office, it was only when it was released on DVD it garnered a cult following and is more appreciated today than it was in its original release. Still I believe this is up there with one of the greatest animated features of all time. It's a charming story between a child and a robot, which has been done countless times but the characters and the care in how the story is told put this leaps and bounds above the rest of the competition. The Iron Giant is a brilliant film that is full of laughs and heartbreaking emotional scenes that is fun for the whole entire family.