A few days ago Brooklyn Nine Nine was cancelled by FOX after a very successful and popular 5 seasons. Once news travelled of it's cancellation fans flocked to twitter to make FOX notice their anger at their decision. #NineNine and #RenewB99 was trending and celebrities such as Sean Astin, Lin Manuel-Miranda and Mark Hamill also tweeted their dissatisfaction at the cancellation. After fan outcry it was announced that Brooklyn Nine Nine will be picked up by NBC for an abridged season 6. This story of the power of the fans has inspired to write about 5 other shows brought back from the brink by the power of the people.
5. Family Guy (1999-2000) (2000-2001) (2001-2002) (2005-)
If there is one show that has been messed around by the FOX network, look no further then Family Guy. After performing well after it's first season, FOX decided to move around Quahog's favourite family to different time slots and ratings declined. It was briefly cancelled after it's second season and was quickly brought back by FOX for an additional 13 episodes then in 2002 it was announced that Family Guy was cancelled again. Fox sold the reruns rights to Cartoon Network for very little and after good ratings from the reruns and DVD sales were high, FOX brought back the show by ordering 35 episodes, and the rest is history. Family Guy marked one of first times a TV show was brought back from cancellation because of the high DVD sales. Family Guy is very divisive in it's humour but it is undeniable that it has become a cultural hit and hugely successful.
4. Community (2009-2014) (2015)
6 seasons and a movie! Fans had followed this mantra and expected this to happen. However it was cancelled in its 5th season by NBC. Community was a cult show that had a loyal following but never really was big in the television ratings. However Yahoo! purchased a 6th season due to fan outcry to put on their new online streaming service. The 6th season got mixed reviews and Yahoo's streaming service was shut down. At the present time of writing their is not much hope for a 7th season but there has been talks of following that fan mantra of six seasons and movie. There has been six seasons and Yahoo is very interested in producing a feature film but that looks to be far later in the future.
3. Futurama (1999-2003, 2008, 2010-2013)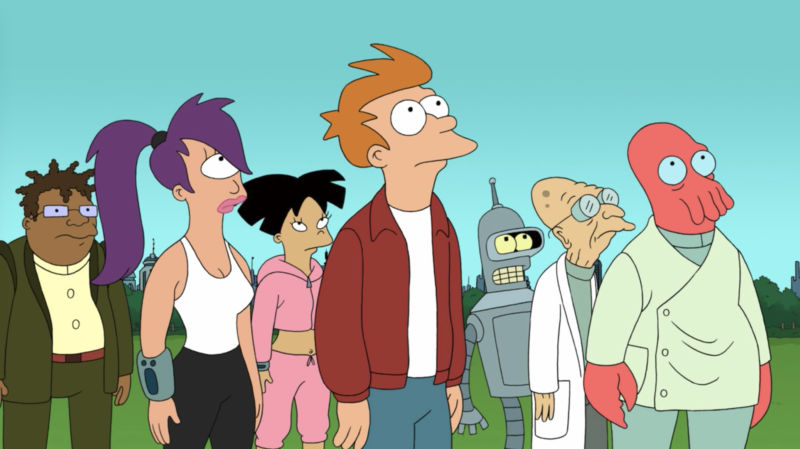 FOX really does not like animated shows that isn't The Simpsons, even animated shows made by the guy who made The Simpsons. Futurama is one of those shows that was unfairly treated by the network. A fantastically written show that can be argued to be a much better show then The Simpsons, especially comparing Futurama with the later seasons of The Simpsons. Futurama was popular in its first run, it garnered more viewers than other popular animated shows such as South Park, King of the Hill, Family Guy but was well below the ratings of The Simpsons. FOX wasn't fans of the show according to Matt Groening. It was cancelled after it's fourth season after being moved around from time slot to time slot. A similar story to Family Guy, Cartoon Network acquired the rights to the show for reruns and this garner new interest into the show. Briefly it was brought back in 2008 via four direct to DVD films by Comedy Central. These were split into 16 episodes to create a 5th season. Comedy Central then announced that it will bring the show back and they did for the 6th and 7th season but announced that the 7th would be the final season in 2013. However Comedy Central and Matt Groening has both said that they still want to expand the Futurama universe, by what method is still unsure. There maybe hope for more Futurama in the future.
2. Arrested Development (2003-2006) (2013-)
The show surrounding the Bluth family was a huge hit critically and had gained a loyal following. Arrested Development won a couple of Emmy's and a Golden Globe award. Even though it was critically applauded, had a loyal following and gave great advice that there is always money in the banana stand, the show was cancelled after the creator refused to move the show from FOX to Showtime. It had run for three seasons and finished in 2006. As time went on, through reruns, Arrested Development started to gain a wider following and there were rumours of a fourth season or a feature film. In 2012, Netflix announced that it was producing the fourth season of Arrested Development in one of Netflix's first reboot of a old show. See other examples such as Full House and Gilmore Girls. After a generally positive reception of the fourth season and a remixed version of the season, it has been announced that the fifth season will be released on Netflix soon.
1.Doctor Who (1963-1989, 1996, 2005-)
Doctor Who is slightly different on this list in the fact it had to be cancelled so it could come back, revived, evolved and a much more fresher product. It ran from 1963-1989, 26 seasons and 7 actors playing the role as the doctor. Doctor Who was a very popular show in the 70's and 80′, however by the end of the 80's, viewership had declined and the tales of a time travelling doctor started to become stale. It was never officially cancelled by the BBC but after 1989 the doctor would not return until a 1996 television film that acted as a pilot for a new series in the USA and UK. Although it was successful in the UK, it was not in America. The show laid dormant until 2005 where Russell T Davies launch a reboot of the show and was hugely successful. The success of the 2005 series has gain popularity of the series outside of the UK. It has become widely popular internationally and is still healthy in it's 37th series. The 13th doctor was announced as Jodie Whittaker, the first female doctor and it has been announced that Doctor will last till 2020 so far with no end in sight.